Bali 2014 – Keramas Beach
If you don't want to stay in Bali "party central," then you should head out of Kuta once you depart the plane… we decided that we wanted more of the Balinese experience, so we grabbed a taxi at the airport to drive us up to Keramas Beach.  First stop was our stay at Komune Beach Resort.
Keramas Beach:  Would I recommend Keramas and Komune Beach resort?  Definitely!  If you're looking for a spot to enjoy the ocean breeze, watch or ride the waves, relax by the pool, and take day trips out and come back to the sounds of the ocean in this area…this is a must.  If you want hustle and bustle of southern Bali, not for you… we decided to stay four nights here, and do two day trips up to Ubud area, instead of staying in Ubud, which is also a great option.  This worked for us and was easy…

Here's a photo of the outside of each room – place for your surfboards ready to go!
All rooms face each other, keeping privacy at a minimum…but you spend most of the time on the beach!
The beach has great beds you can reserve each day, if you want to just lounge by the pool, take an occasional dip, and watch the surfers… or you can hang out at the restaurant/bar area.  For more on the hotel, you check out their website.
SURF TIP:  This beach is a must stop for surfers, not just for the day surf, but they do night surfing here too… they have a limit of six surfers in the water at night.
Note, this is not a beginner beach, as the waves could be a challenge.  One day we saw four surfers whose board snapped in two…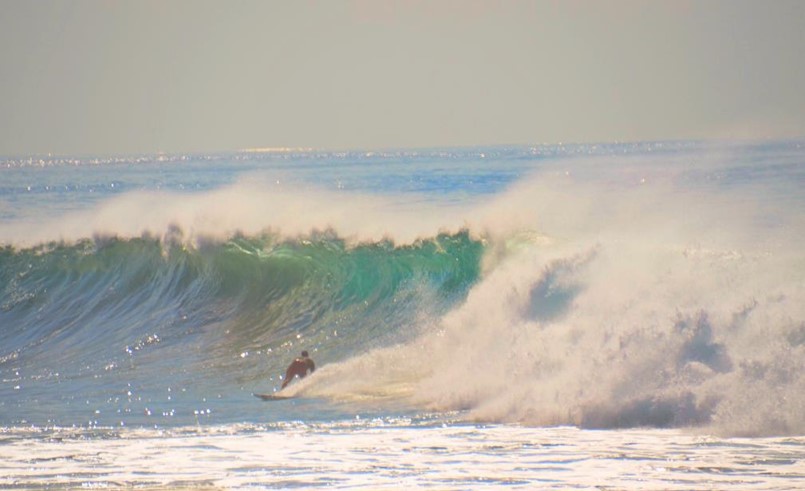 More info on Keramas coming up – stay tuned!